QUALIFIED GUIDES
In Italy Tourist Guides are professionals, and by law they must pass a qualifying exam to practice as guides. It is a crime to work as a Tourist Guide without professional qualification.
To become a Qualified Tourist Guide for Rome I had to pass an exam on all the archaeology, history, art, architecture, nature of Rome and its Province.
— Before hiring a guide, make sure she/he is qualified. —
By law, while working Tourist Guides must always display their official badge that proves they are qualified.
This is what the new badge for Rome looks like: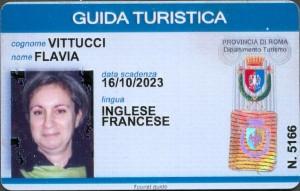 If your guide doesn't have a badge, or the badge is always backwards, she/he is not qualified, therefore a fraud.
This is the EU's definition of Tourist Guide (EUROPEAN STANDARD EN13809:2003):
"2.3.5  TOURIST GUIDE = person who guides visitors in the language of their choice and interprets the cultural and natural heritage of an area, which person normally possesses an area-specific qualification usually issued and/or recognised by the appropriate authority."