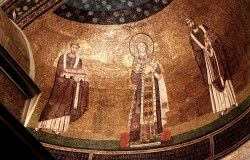 Posted on F j, Y by flavia in

This is a tour of a complex of churches dedicated to two girls in early Christian times, still well preserved and operating today. It all started when saint Agnes was buried in a catacomb along via Nomentana, probably III century AD. In IV AD empress Constantina (or Constantia), emperor Constantine's daughter, commissioned a large basilica […]

No Comments. Continue Reading...